Virtual Transition Flipbook (Transportation & Trucking)
This is an example of the Virtual Transition Flipbook that would be handed out at Transition Centers.
The Official Packages have detailed information in regards to the table of contents and are tailored to each individual State and Discipline. Example: Healthcare Professionals would only receive Healthcare Advertisements and Healthcare information. E.G. Transportation/Drivers as well and so on.
Table of Contents
Transition Information
Jobs
Housing
Movers
Financials
Schools
Libraries
Bases
Command Centers
GI Bill Info
DOD Websites
Government Websites
TAP Programs
Carolina CAT, LiftOne, & Pinnacle Cranes
Since 1926, Carolina CAT has been committed to the needs of its customers by providing superior parts, service, and sales. We are proud to be a part of the elite Caterpillar dealer network. Carolina CAT operates 8 locations throughout Western North Carolina serving the Agriculture, Construction, Forestry, Governmental, Landscaping, On-highway Trucking, Paving, Quarries & Aggregates, and Waste. Product offerings include full lines of new, used, and rental equipment with flexible financing options available.
Our Mission
We serve our customers by providing the highest value equipment solutions supported by superior parts and service.
We provide our customers with the lowest total owning and operating costs.
We are a customer-focused team that builds positive, lasting relationships.
We value our employees' well-being and empower our people to make the right decisions.
We achieve our strategic goals to be a sustainable long-term partner.
Our Values
Integrity - Commitment to doing what is right.
Customer Driven - Uncompromised focus on helping our customers achieve success.
Positive, Engaged Employees - Recognition that our employees working together are the key to our success.
Accountability - Honor our commitments and take action.
Adaptability - Continuously seek to improve the business and our individual self to be the best.
May Trucking Company
May Trucking Company began in Payette, Idaho in 1945 hauling sacks of cement to construction sites. Today, May Trucking Company operates a fleet of more than 900 tractors, providing transportation services for refrigerated and dry products throughout the United States. Our company has operating centers located in Salem (Oregon), Payette (Idaho), Layton (Utah), Phoenix (Arizona), Denver (Colorado), Gary (Indiana), Nashville (Tennessee), and Pensacola (Florida).
Celebrating over 69 years in business May Trucking Company knows that our people make us a success. We employ only the most talented drivers, latest technology, and best equipment to ensure that May Trucking Company remains second to none.
Due to our excellent safety, compliance, and vehicle inspection record the State of Oregon recognizes May Trucking Company as a Trusted Carrier. Special license plates on May Trucking Company tractors identify our drivers to the public and to enforcement agencies as among the safest and most compliant drivers in the nation.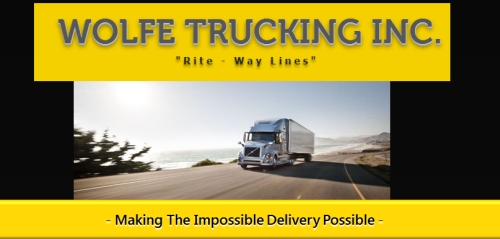 Since the birth of Wolfe Trucking Inc., we have grown from 3 trucks and trailers to 36 trucks and trailers. We have general commodities Interstate Commerce Commission and Department of Transportation authorities to haul general commodities except Class A and Class B explosives in the continental 48 states. Our last three Department of Transportation inspections have been "Satisfactory," the highest rating given by that governing agency. Our reputation of being honest and giving the best service possible to our customers has allowed us to grow to the size we are now. Our customers pass on our name to others and tell them that when you need the best call Rite-Way or Wolfe Trucking. We are known as the trucking company that will make your impossible delivery possible. We are not able to cover all the loads we are called to do because of such high demand for our excellent service. This is why we are always looking to add drivers to our team.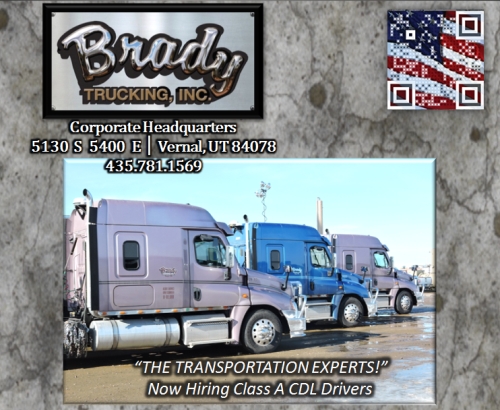 Established by Larry Brady in 1980 and incorporated in 1996, Brady Trucking has been providing quality trucking services for more than 30 years. Brady Trucking is considered one of the safest and most reliable truckload carriers in the United States.
Today, Brady Trucking owns and operates 150 Peterbilt trucks and more than 200 trailers at transportation facilities strategically placed throughout the Rocky Mountain region, including the Bakken Oil Field. With terminals in Utah, Colorado, Wyoming, New Mexico, and North Dakota, Brady Trucking is able to provide ample truck capacity to customers without sacrificing service value.
We provide customized transportation solutions to haul whatever you need with exceptional customer service. The top-of-the-line fleet includes pneumatic trailers, low boy trailers, flat beds, drop deck trailers, side dump and belly dumps, storage silos, trans-loaders, and nitrogen transports.